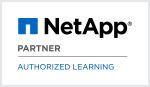 ONTAP Cluster Administration (ONTAP9ADM) (9.6)
Who should attend
Network Engineers
Channel Partners
System Engineers
NetApp Customers
Certifications
This course is part of the following Certifications:
Course Objectives
Manage ONTAP administrators
Configure and manage storage resources
Configure and manage networking resources
Create and configure a storage virtual machine (SVM)
Create and manage FlexVol volumes
Implement storage efficiency features
Create protocol servers within an SVM
Configure basic data protection features
Perform administrative and preventive maintenance tasks
Follow On Courses
Course Content
This three-day, instructor-led course uses lecture and hands-on exercises to teach the basic administration tasks of an ONTAP 9.6 cluster. You use the cluster shell and OnCommand System Manager to manage storage and network resources. ONTAP Cluster Administration is an intermediate course in a comprehensive learning path for NetApp customers, partners and employees.
Classroom Training
Duration 3 days
Click on town name to book
Schedule
Africa
Europe
Germany
Austria
20/04/2020 ― 22/04/2020
FLEX training
This is an German language FLEX course.


Time zone: Europe/Vienna
Bulgaria
02/11/2020 ― 04/11/2020
FLEX training
This is an English language FLEX course.


Time zone: Europe/Sofia
Croatia
31/08/2020 ― 02/09/2020
FLEX training
This is an English language FLEX course.


Time zone: Europe/Zagreb
Czech Republic
08/06/2020 ― 10/06/2020
FLEX training
This is an English language FLEX course.


Time zone: Europe/Prague
21/09/2020 ― 23/09/2020
FLEX training
This is an English language FLEX course.


Time zone: Europe/Prague
Netherlands
Portugal
Slovenia
04/05/2020 ― 06/05/2020
FLEX training
This is an English language FLEX course.


Time zone: Europe/Ljubljana
Switzerland
United Kingdom
Latin America
Brazil
13/04/2020 ― 15/04/2020
Online Training
Time zone: America/Sao_Paulo
Course language:

Portuguese
08/06/2020 ― 10/06/2020
Online Training
Time zone: America/Sao_Paulo
Course language:

Portuguese
03/08/2020 ― 05/08/2020
Online Training
Time zone: America/Sao_Paulo
Course language:

Portuguese
05/10/2020 ― 07/10/2020
Online Training
Time zone: America/Sao_Paulo
Course language:

Portuguese
07/12/2020 ― 09/12/2020
Online Training
Time zone: America/Sao_Paulo
Course language:

Portuguese
Chile
04/05/2020 ― 06/05/2020
Online Training
Time zone: America/Santiago
Course language:

Spanish
10/08/2020 ― 12/08/2020
Online Training
Time zone: America/Santiago
Course language:

Spanish