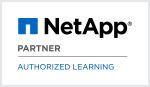 ONTAP NFS Administration (NFSAD)
Who should attend
Professionals who implement NFS solutions who use NetApp storage systems
Prerequisites
Familiarity with UNIX and Linux operating systems
Course Objectives
This course focuses on enabling you to do the following:
Explain the differences between the NFS protocol and SAN protocols
List NAS namespace architectures and namespaces
Summarize client access to NFS data in ONTAP software
List the NFS enhancements for different releases of ONTAP software
Describe the implementation of NFSv3 on NetApp storage
Describe the implementation of NFSv4 on NetApp storage
Demonstrate a multiprotocol configuration that supports SMB and NFS access
Illustrate techniques for collecting NFS statistics and data
Online Training
Duration 1 day
Classroom Training
Duration 1 day
Schedule
Guaranteed date: Fast Lane will carry out all guaranteed training regardless of the number of attendees, exempt from force majeure or other unexpected events, like e.g. accidents or illness of the trainer, which prevent the course from being conducted.
Instructor-led Online Training: This computer icon in the schedule indicates that this date/time will be conducted as Instructor-Led Online Training.