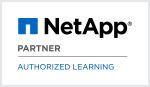 SnapCenter Administration (SCADMIN)
Who should attend
NetApp and NetApp Partner Professional Services
Systems Engineers
NetApp Customers
Course Objectives
Explain the benefits and relationships between the various components of the SnapCenter solution
Understand the methods to install the SnapCenter server software
Perform SnapCenter configuration of role-based access control, installation of licenses, and connections to storage Virtual Machines (also known as SVM's)
Configure hosts and SnapCenter server Plug-in packages
Prepare data protection relationships for SnapCenter
Perform backup and restore of Windows data
Explain monitoring and managing capabilities of the SnapCenter server
Course Content
This course focuses on the deployment of NetApp® SnapCenter® Server 4.4. You learn how to install, monitor, and manage SnapCenter Server. The course also discusses installation and use of licenses and role-based access control. You learn how to prepare hosts, install SnapCenter Plug-ins, and connect to NetApp ONTAP® AFF and FAS storage systems. You also review backup and restore of Windows file system data and the configuration of SnapMirror® and SnapVault® relationships for use with SnapCenter software. The course materials include an exercise workbook that serves as an on-the-job reference guide.
Online Training
Duration 3 days
Classroom Training
Duration 3 days
Schedule
Guaranteed date: Fast Lane will carry out all guaranteed training regardless of the number of attendees, exempt from force majeure or other unexpected events, like e.g. accidents or illness of the trainer, which prevent the course from being conducted.
This class will become guaranteed to run with one more student registration.
Instructor-led Online Training: This computer icon in the schedule indicates that this date/time will be conducted as Instructor-Led Online Training.