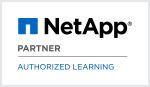 ONTAP Performance Analysis (PERFCDOT)
Who should attend
Professionals who manage NetApp storage systems and would like a deeper understanding of Clustered Data ONTAP system performance
Prerequisites
Hands-on experience with ONTAP software (6 to 12 months)
Course Objectives
Understand how a storage system running ONTAP 9 functions
Identify the commands and tools to use to collect and monitor storage system performance
Interpret performance data and identify hindrances to storage system performance
Use system commands and features to enhance storage system performance and efficiency
Course Content
This course provides you with the knowledge and skills that you need to collect and analyze system performance data from NetApp storage systems that are running ONTAP 9. You will learn how to interpret data and how to identify and implement changes that improve system efficiency. You will also learn how to use system commands and features to monitor and enhance storage system performance by using hands-on exercises, case studies and technical discussion.
Online Training
Duration 3 days
Classroom Training
Duration 3 days
Schedule
Fast Lane will carry out all guaranteed training regardless of the number of attendees, exempt from force majeure or other unexpected events, like e.g. accidents or illness of the trainer, which prevent the course from being conducted.
This computer icon in the schedule indicates that this date/time will be conducted as Instructor-Led Online Training.