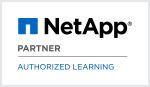 ONTAP Select (OTS)
Who should attend
NetApp customers, IT generalists and academic students
Course Objectives
Design your Data Fabric with software defined storage.
Discuss the flexible, agile approach to storage ONTAP Select enables.
Roll out and administer ONTAP Select with the help of the ONTAP Deploy tool via GUI, CLI, API and vSphere plugin.
Course Content
Where does ONTAP Select fit into the NetApp Data Fabric
How does ONTAP Select help you build your/your customer's Data Fabric
How does ONTAP Select work (as opposed to FAS/AFF...)
Implementation

Networking considerations
Disk management considerations
Roll-Out of Single Node clusters
Roll-Out of Multi-Node clusters
MetroCluster SDS

Management/Operations

Mediator
Monitoring
Adding Capacity
Pool Licensing
Shuttiing Down / Destroying clusters
Automation
Online Training
Duration 3 days
Classroom Training
Duration 3 days
Schedule
German
Time zone Eastern European Time (EET)
1 hour difference
Online Training
This is a FLEX course.


Time zone: Central European Time (CET)
Instructor-led Online Training: This computer icon in the schedule indicates that this date/time will be conducted as Instructor-Led Online Training.
Europe
Germany
Frankfurt
This is a FLEX course in German language.


Time zone: Central European Summer Time (CEST)
Berlin
This is a FLEX course in German language.


Time zone: Central European Summer Time (CEST)
Hamburg
This is a FLEX course in German language.


Time zone: Central European Summer Time (CEST)
Münster
This is a FLEX course in German language.


Time zone: Central European Time (CET)
Hamburg
This is a FLEX course in German language.


Time zone: Central European Summer Time (CEST)
Munich
This is a FLEX course in German language.


Time zone: Central European Summer Time (CEST)