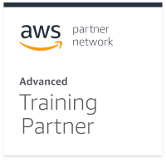 AWS Discovery Day (AWSDD)
Who should attend
This course is intended for:
Business leaders and IT-technical professionals
Learners who want to learn about basic cloud concepts, AWS Cloud terminology, and AWS core services
Course Objectives
In this course, you will learn to:
Define the cloud and how it works
Explain the benefits of the AWS Cloud
Describe the basic global infrastructure of the cloud
Gain a deeper understanding of AWS core services
Explain the shared responsibility model
Describe security services with the AWS Cloud
Course Content
This course is designed to teach business leaders and IT technical professionals the benefits of computing in the AWS Cloud. This course covers AWS services for computing, storage, database management, networking, and content delivery. In this 6-hour course, you will learn how to use AWS services to improve business processes and also gain an understanding of how to benefit from AWS security and compliance services.
Online Training
Duration 6 hours
Classroom Training
Duration 6 hours
Schedule
English
Time zone: Eastern European Time (EET)
Guaranteed date: Fast Lane will carry out all guaranteed training regardless of the number of attendees, exempt from force majeure or other unexpected events, like e.g. accidents or illness of the trainer, which prevent the course from being conducted.
Instructor-led Online Training: This computer icon in the schedule indicates that this date/time will be conducted as Instructor-Led Online Training.