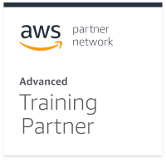 AWS Certified Solutions Architect Associate Bundle (ACSAA-BUNDLE)
Certifications
This course is part of the following Certifications:
Course Content
Our AWS Certified Solutions Architect Associate Bundle includes:
A voucher for the AWS Certified Solutions Architect - Associate Level exam
Online Training
Duration 4 days
Classroom Training
Duration 4 days
Schedule
English
1 hour difference
Online Training
This is a FLEX course.


Time zone: Arabia Standard Time (AST)
German
Time zone: Eastern European Time (EET)
1 hour difference
This class will become guaranteed to run with one more student registration.
Instructor-led Online Training: This computer icon in the schedule indicates that this date/time will be conducted as Instructor-Led Online Training.
Europe
Austria
Vienna (iTLS)
This is a FLEX course in German language.


Time zone: Central European Summer Time (CEST)
Vienna (iTLS)
This is a FLEX course in German language.


Time zone: Central European Summer Time (CEST)