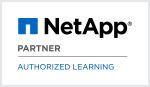 OnCommand Insight: Business Insights (OCIBI)
Who should attend
Customers
Infrastructure Engineer
NetApp Partners
Sales Engineers
Course Objectives
Describe general organizational-based reporting needs
Use queries, widgets, and dashboards to display day-to-day operational reporting information
Describe the OnCommand Insight data warehouse structure (DWH)
Address business reporting requirements relating to chargeback, virtualization, and storage pool topics
Describe where to find data warehouse reference documentation and how to maintain a healthy data warehouse
Course Content
In this course, you become familiar with some of the most important features of OnCommand® Insight for the day-to-day management, monitoring, and troubleshooting of data infrastructures.
This course concentrates on the reporting features of OnCommand Insight and the OnCommand Insight Data Warehouse. This course demonstrates how to use OnCommand Insight to perform operational reporting that aids in daily administrative tasks.
This course also demonstrates how to use IBM Cognos Analytics to perform business reporting. By learning how to create customized reports, you should come away with a basic understanding of how to extend Insight to meet other business reporting needs.
Online Training
Duration 2 days
Classroom Training
Duration 2 days
Schedule
German
Time zone Eastern European Time (EET)
1 hour difference
Online Training
This is a FLEX course.


Time zone: Central European Time (CET)
Guaranteed date: Fast Lane will carry out all guaranteed training regardless of the number of attendees, exempt from force majeure or other unexpected events, like e.g. accidents or illness of the trainer, which prevent the course from being conducted.
Instructor-led Online Training: This computer icon in the schedule indicates that this date/time will be conducted as Instructor-Led Online Training.